Competition Report
This year's Region 8 International Student Competition, in association with Walls Construction, John Sisk & Son, Mott MacDonald Ltd, and ABM Europe, focused on the Dublin Airport Central construction project. Teams from Ireland, Britain and the USA contested the honour of being ASC Region 8 Champions for 2015.
Date: November 19th – 20th, 2015
Venue: Dublin Institute of Technology, Republic of Ireland.
Campus location: Dublin Institute of Technology, Bolton Street, Dublin 1
One of DIT's most historic buildings, Bolton Street was specifically designed and built for technical and technological education in 1911, on the site of what was once the European Hotel. Since then and up to the present day, it has been a centre of leading edge technological education in the College of Engineering and Built Environment.
Tom Dunne, Head of School of Surveying and Construction Management in DIT; Professor Gerry Farrell, Director and Dean of College of Engineering and Built Environment; and Region 8 Asssociate Director Sonya Meekel, welcome competitors and sponsors to ASC International Student Competition
Students were given their first challenge in the morning session of Day 1. Working in teams of four, they took on the role of contractor on a real-life construction project currently underway at Dublin Airport.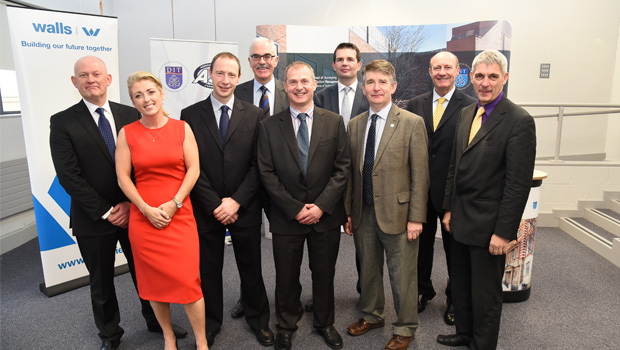 Industry sponsors from Sisks, Walls Construction, ABM Europe and Mott McDonald with colleagues from DIT, including (far right) Professor LLoyd Scott, ASC Secretary.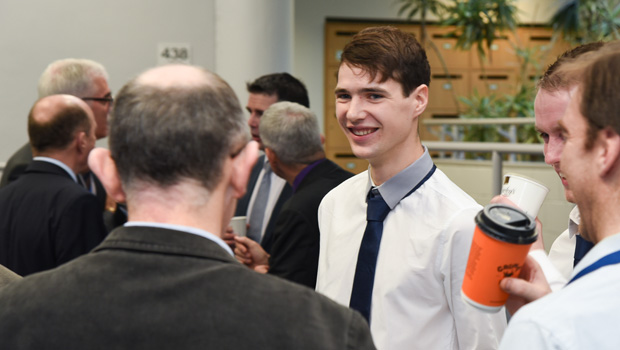 Networking in the competition build-up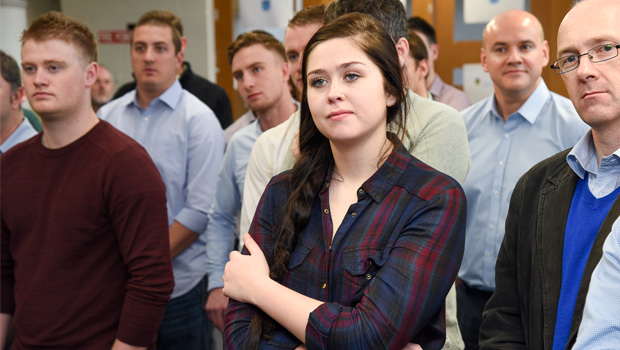 Competitors listen to welcome speeches before competition commences
They spent the next six intensive hours producing their solutions to the challenge – with a 'mystery object' introduced as a further twist along the way – and preparing a 15 minute presentation to the industry panel.
On the second day of the competition, having delivered their presentations, three teams – DIT, Birmingham City University/Auburn University and Liverpool John Moores University – were named as finalists and recalled by the judges for further intensive questioning on their proposals.
Industry panel make their final adjudication
Finally, the decision was announced – and the home team from DIT with Neil Ward, Davis Ciprikis, Erik Crowley and David Coughlan won 3rd place.
The team from Birmingham City and Auburn Universities – Jack Linehan, Josh Prescott, Jim Johnson and Jake Struthers – won 2nd place.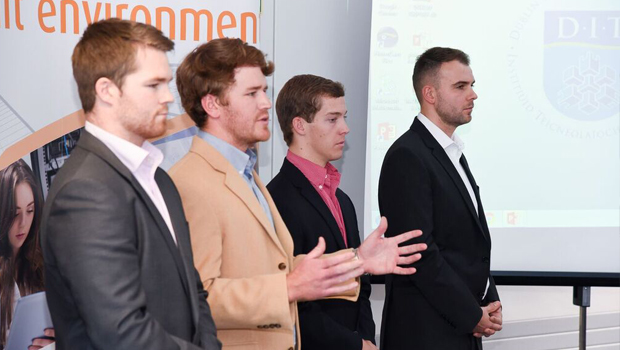 Joint Birmingham City and Auburn University team make their pitch
Finally, to great excitement, the team from Liverpool John Moores University – Joe Simpson, Andrew Grain, James Peacock and Uzo Akwari – was pronounced the winner!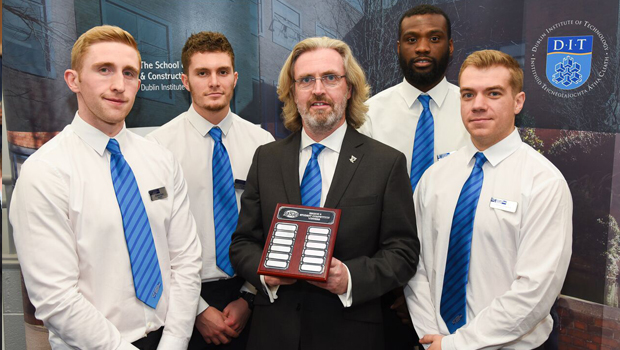 2015 ASC Student competition winners – Liverpool John Moores University, with Coach Eamonn Kirke
Head of the DIT School of Surveying and Construction Management Tom Dunne congratulated the winners and all of the participants and paid tribute to Sonya Meekel for organising the event. He also thanked contractors Sisk, Walls Construction, ABM Europe and Mott MacDonald for their generous support of the competition and for their role as adjudicators.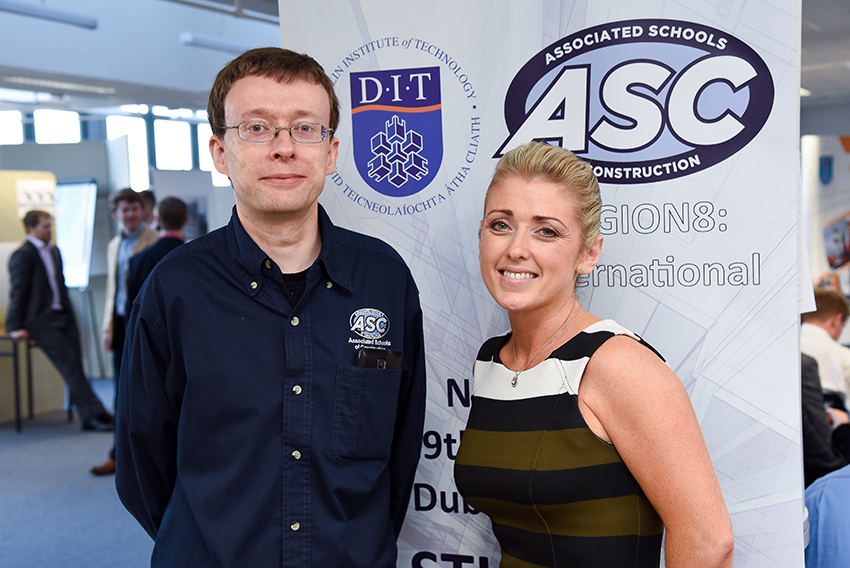 Director of Region 8, Professor Nick Morton, and Associate Director Sonya Meekel
From Region 8 and all of ASC, many congratulations to Liverpool John Moores University! We are looking forward to you defending your new title at the 2016 Student Competition.
Other Information
Regulations and entry conditions: Please see our dedicated rules page here.
Registration Form:
ASC Region 8 Registration 2015
Initial Competition Brief:
ASC Region 8 Pre Competition infomation release 2015
Provisional Itinerary
[table id=1 /]
[table id=3 /]
[table id=4 /]
---
Recommended Accommodation
Jurys Inn, Parnell Street: an ideal location, a few minutes walk from the campus and right in the heart of the city.
https://www.jurysinns.com/hotels/dublin/parnell-street
Maldron Hotel, Smithfield: also in the heart of Dublin, and an ideal location!
http://www.maldronhotelsmithfield.com/