INTERNATIONAL STUDENT COMPETITION UPDATE!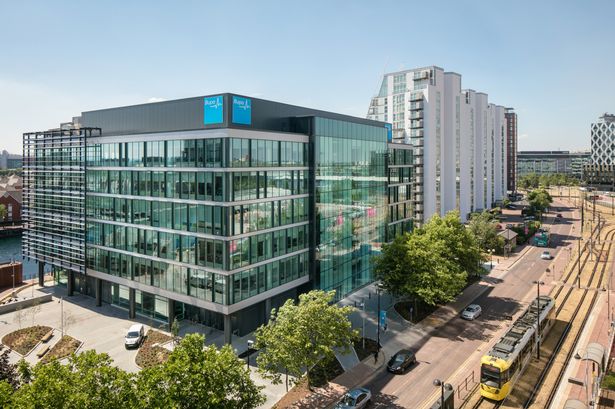 October 2019: The event is coming ever closer and so it is with great pleasure we can release some information that should get you excited. We're delighted to see some first-time departments joining us, but we know some other schools are still hoping to take part – if you have yet to register full details, please can you do so ASAP so we can confirm venues for the Wednesday social and Friday dinner.
If you want to add to your participation, we would strongly encourage you to get teams together for the Design and Build track and try something new! Look out for your D&B brief being released on the 23rd October.
Meanwhile, with our competition sponsors Morgan Sindall, we are delighted to announce that the building under investigation for the Construction Management / Quantity Surveying (Estimating) is the BUPA Headquarters building at Media City in Salford Quays. Certainly an iconic building worthy of being the base for this years problem. Some further details will follow shortly.
Looking forward to seeing you all in Salford very soon!
---
2019 INTERNATIONAL STUDENT COMPETITION DETAILS RELEASED
September 2019: We are thrilled to announce further details of the forthcoming 7th Annual International Region 8 Student Competition, this year hosted by the School of Science, Engineering and Environment, University of Salford UK, and featuring a major innovation – for the first time, we will host two competition tracks:
Our traditional CM / QS (Estimating) competition track, this year sponsored by Morgan Sindall. 
A brand-new Design / Build competition track, sponsored by Laing O'Rourke.
For full details of this exciting transnational event, running from 7th – 9th November, please see our dedicated event page here. We are hugely looking forward to welcoming our teams to Salford!
---
CONGRATULATIONS TO OUR 2019 REGIONAL TEACHING AWARD WINNER!
April 2019: We were delighted to recognise the teaching talents and achievements of Dr Mohammad Mayouf, of Birmingham City University, UK, in this year's regional excellence awards. He is pictured here being presented with his award at the 55th Annual International Conference in Denver, by Regional Director Professor Nick Morton.
Huge congratulations to Dr Mayouf for this well-deserved recognition!
---
2019 REGIONAL AWARDS FOR EXCELLENCE
January 2019: Nominations are now open for this year's awards, which recognise outstanding contributions to construction education.
Please note the award scheme has been refreshed and updated for 2019 – for full details see here. We welcome applications for the ASC Regional Teaching Award (multiple awards possible) and the ASC Regional Outstanding Educator Award (1 per year). Regional award winners are eligible for the ASC International Excellence in Teaching Award and ASC International Outstanding Educator Award, and the prize(s) will be bestowed at the 55th Annual International Conference in Denver, Colorado in April.
Please note that the final deadline for regional nominations is Monday, 25th February 2019.
---

AND WE HAVE A WINNER…!
December 2018: We were delighted to announce the winners of our 6th International Student Competition – huge congratulations to Dublin Institute of Technology & the University of Denver, brand new champions of Region 8!
Runners up were Liverpool John Moores University & Auburn University, with the solo LJMU team 3rd, and the Czech Technical University working with CalPoly 4th.
Relive the best of a wonderful event in Prague via our curated highlights at #ASCPrague2018 – and our fantastic commercial sponsors PlanGrid have also blogged about the competition too.
---

CALL FOR PAPERS FOR THE 55THASC ANNUAL INTERNATIONAL CONFERENCE
September 2018: Please note the CALL FOR PAPERS for the Proceedings of the ASC 55th Annual International Conference in Denver, Colorado, hosted by the University of Denver. Please see http://asc2019denver.com for full details of what promises to be a fantastic conference.
The web page system will accept the SUBMISSION OF FULL PAPERS FROM OCTOBER 1, 2018 TILL OCTOBER 24, 2018. Submission instructions are provided below.
Accepted topic areas include the following:
– Papers with pedagogical content: Undergraduate, Graduate, General Topics, and Research.
– Industry papers: Research and General Topics Additional details can be found at the ASC Proceedings web site:
http://ascpro.ascweb.org
---

DETAILS CONFIRMED FOR 2018 STUDENT COMPETITION
September 2018: Launch details for our 2018 International Competition are now available on our dedicated Event page. We are truly excited to welcome all teams to the stunning historic city of Prague, in our first ever event to be held in continental Europe! The competition page also offers advice on accommodation, transportation, and other practical matters.
The competition takes place on the 8th – 9th November at Czech Technical University in Prague. Please note that, in a change to previously advertised details, our lead competition sponsor is now confirmed as SWIETELSKY, founded in Austria in 1936 and now with branches across much of Europe (including the UK) and several thousand employees. The competition building is a High School in Prague for which SWIETELSKY were the lead contractors, an attractive architectural solution that takes environmental issues into consideration.
The judging panel consists of a highly impressive range of senior figures from local, regional, and international brands – more details on our event page.
We are also delighted to have once again secured valuable commercial sponsorship from PlanGrid to support our event and the awarding of student prizes! For the first time, this also means that we are able to offer up to 3 bursaries of £200 to support first-time attending schools and encourage first steps into the wonderful world of ASC Student Competition. If you would like to know more about that, please contact the Regional Director at nick.morton@bcu.ac.uk.
---

PLANNING UNDERWAY FOR 2018 STUDENT COMPETITION
April 2018: A Region 8 delegation led by Professor Nick Morton, Regional Director, met with our competition hosts Czech Technical University in Prague, to agree preliminary details of the event (pictured below).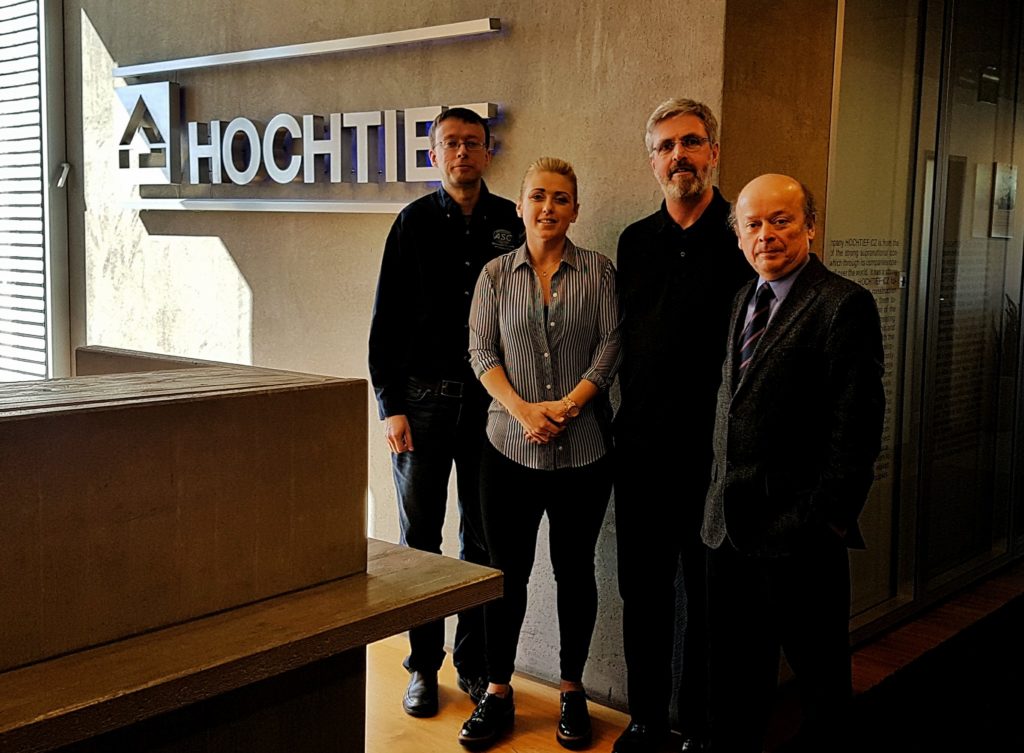 The 2018 event promises to be another wonderful occasion, and very special in marking the first time that the Region 8 Competition has been held outside the UK and Ireland.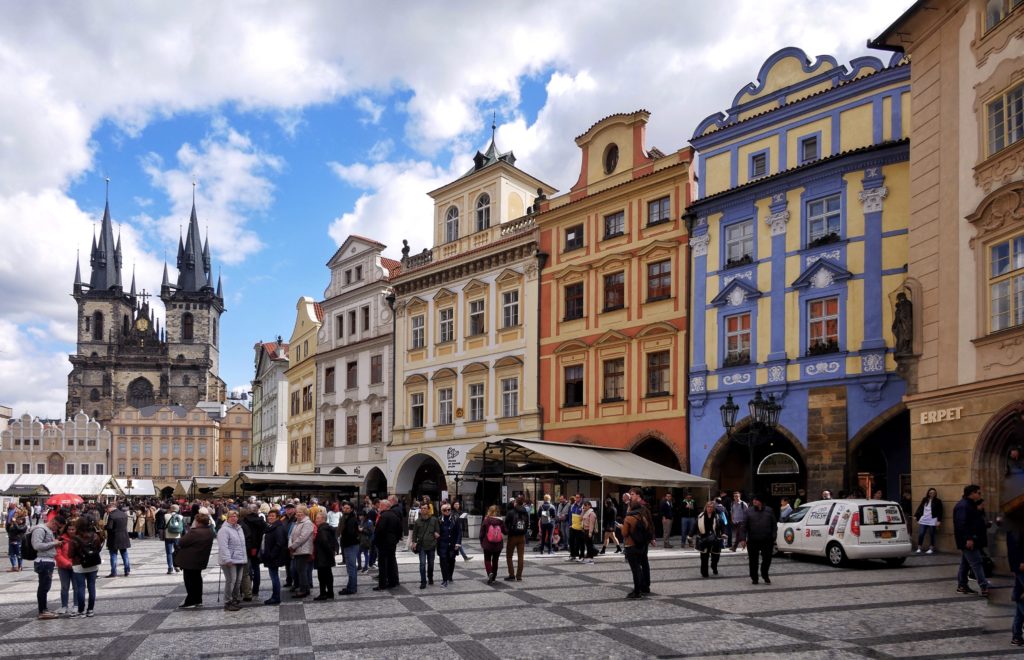 Old Town Square, Prague
---

SAVE THE DATE! – 2018 INTERNATIONAL STUDENT COMPETITION
March 2018: We can confirm that our 6th annual competition will be hosted by our friends at Czech Technical University in the magnificent city of Prague. More details will be announced shortly, including the lead industry partner, and the dates for your diaries are November 8th and 9th 2018. 
Looking further ahead, we are also thrilled to say that the 56th ASC International Conference will be held at Liverpool John Moores University in April 2020, the first time the conference has been held in Region 8 since Birmingham City University in 2012. It will be wonderful to welcome our colleagues back to Europe!
---

2017 INTERNATIONAL STUDENT COMPETITION
January 2018: The 5th ASC Region 8 International Student Competition took place at Liverpool John Moores University, between the 9thand 10th November 2017. A full report is now available through our dedicated 2017 Competition page.
We were grateful for tremendous support from this year's lead partner, Balfour Beatty, with, for the first time, valuable commercial sponsorship from PlanGrid. Most importantly, of course, there was strong and enthusiastic competition, with teams and their coaches representing institutions in Auburn, Birmingham, California, Colorado, Dublin, Liverpool, Northumbria, Prague, Reading and Salford.
The brief focused on the conversion of the historic Royal Insurance Building in Central Liverpool into a luxury hotel. After two days of intense competition and cross-examination from our panel of industry experts, the collaborative team from Liverpool John Moores University, UK, and Auburn University, USA, were declared winners, with the Runners Up being Cal Poly & Czech Tech University, and the solo LJMU team and Birmingham City University's team in joint 3rd place. Huge congratulations to all involved in such a fantastic event – we hope to see you back at our next Competition, to be held in Prague, in November this year!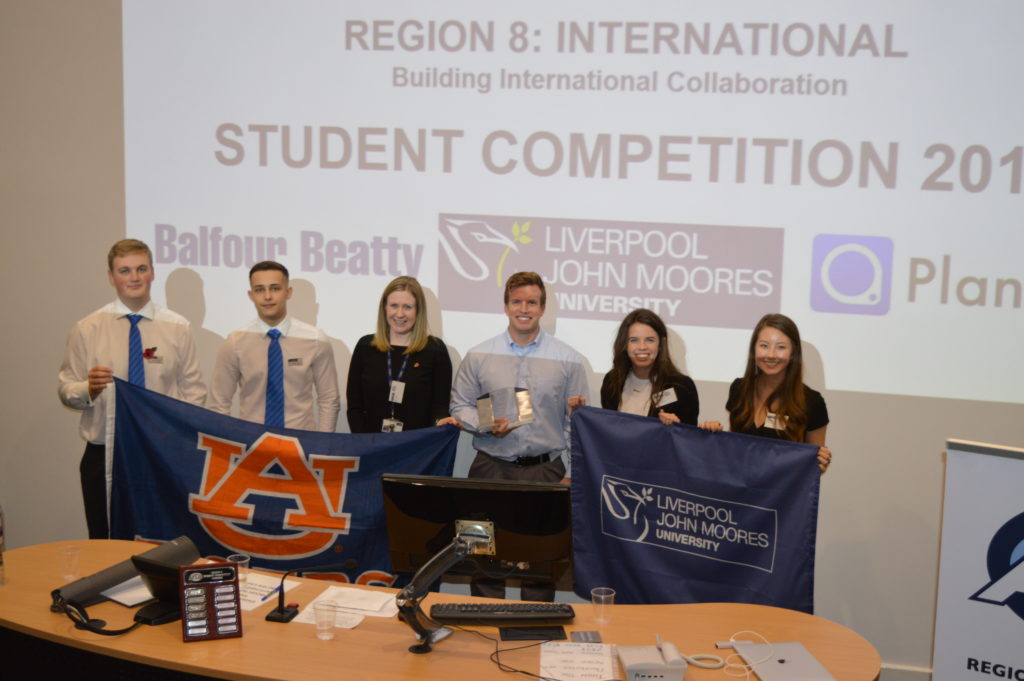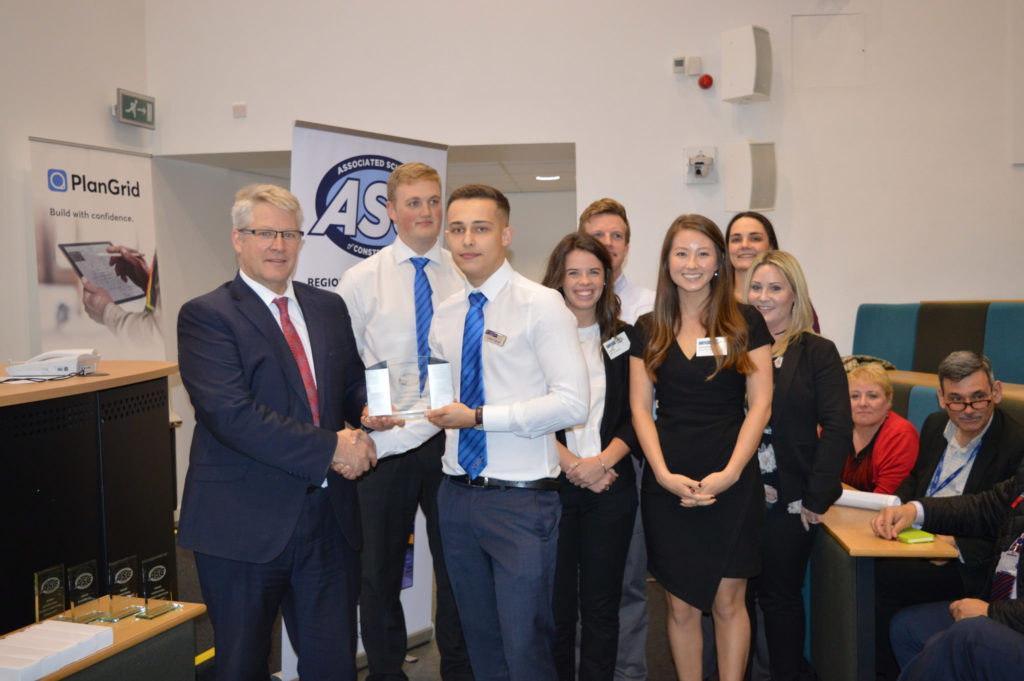 The Champions! Auburn University and Liverpool John Moores University
---

2017 INTERNATIONAL STUDENT COMPETITION
September 2017: We are delighted to announce full details of the 5th Region 8 Student Competition, to be held at Liverpool John Moores University this November 9th-10th.
We are beyond excited at the plans for the biggest and best yet Region 8 competition; full details are available at our dedicated Competition page here, but to whet your appetite …
This year we visit Liverpool, the world-famous waterfront city, home of the Beatles, and a vibrant and energetic student venue!
Our lead competition partner this year is Balfour Beatty, a major British multinational infrastructure group, and, for the first time, we will also be supported by the RICS, the global professional body for land, real estate, construction and infrastructure.
We are introducing three further innovations for 2017, marking the 5th running of the event:

Breakout rooms for all student teams to work in complete privacy
Optional coach and partner activities for the first competition day
Parallel first round presentation streams on Friday with an expanded range of industrial partners
We can't wait to welcome you to Liverpool!
---

REGION 8 STUDENTS WIN AGAIN!
March 2017: The successful Birmingham City University/Auburn University collaborative team, which was victorious in the Region 8 Student Competition in November 2016, has now conquered the Region 5 International Design and Build Competition in Dallas, Texas as well!
The two winning members from BCU, Matt Roberts and Jack Tyson, formed part of the expanded team in Dallas, along with coach Angela Kilby, competing against nearly 20 teams from the UK, US, and Australia. More details about their achievement can be found here.
And the Region 8 success didn't stop there; with Lloyd Scott from DIT joint coaching the Oklahoma University team to runners-up too. Congratulations all!
---
2017 EXCELLENCE AWARDS NOW CLOSED
March 2017: Are you an excellent teacher, outstanding educator, or outstanding researcher, with a track record of success and commitment to ASC and the construction profession? Then you could be a winner in the Annual Region 8 Awards for Excellence! Click here for more details.
Update: We are delighted to confirm the 2017 winner of the Region 8 Teaching Excellence Award, Eamonn Kirke of Liverpool John Moores University; and the Outstanding Educator, Sonya Meekel of Dublin Institute of Technology! Many congratulations to both on your richly deserved recognition.
If you would like to plan ahead – nominations for 2018 will close at the end of February next year!
---

INTERNATIONAL STUDENT COMPETITION 2016
January 2017: Huge congratulations to the winners of the 2016 Region 8 International Student Competition, the annual highlight of the ASC calendar! The 4th Regional Champions were a joint team between Birmingham City University, UK, and Auburn University, USA. A full report will appear shortly.
The competition project was hosted by the University of Reading, UK, on November 17th-18th, based on one of the University's recent infrastructure investments and focusing primarily on scheduling and cost control. The real-life project was from Multiplex, formerly Brookfield Multiplex, the global contracting and development company that has delivered landmark property and infrastructure assets for more than 50 years.
The venue was the Meadow Suite of the University Park House. The School of the Built Environment at Reading is internationally renowned for its research and education relating to the design, construction and operation of the buildings and places within which we live, work and play.
---

WELCOME TO CZECH TECHNICAL UNIVERSITY!
April 2016: Region 8 is delighted to welcome one of the biggest and oldest technical universities in Europe as a member; founded by a decree issued by Emperor Josef I on January 18th, 1707, CTU is now home to some 24,000 students.
For more information on joining ASC, please see our page detailing member benefits.
---

VENUE ANNOUNCED FOR 2016 STUDENT COMPETITION
March 2016: We are very pleased to confirm that the School of Construction Management and Engineering at the University of Reading will host the 2016 Region 8 international competition on November 17th-18th.
The university is home to some 17,000 students and this year celebrates its 90th anniversary; and is an internationally recognised centre of excellence for teaching and research in the built environment.
Further details of the project and industrial sponsors will be announced here very soon!
---
NOMINATIONS SOUGHT FOR 2016 TEACHING EXCELLENCE AWARD
February 2016: The nomination process is now open for the Region 8 Award for Teaching Excellence, to be presented at the 52nd ASC International Conference in Utah. Full details, and the nomination form, are available here, and you can read an interview with the 2015 winner, Professor Lloyd Scott, here.
Please note that the nomination deadline is February 26th, and the winner will be selected at the forthcoming Regional Meeting on March 2nd in Birmingham, UK (members will be contacted shortly with further details).
Full details of the awards will be posted following the ASC International Conference in April.
---
2015 STUDENT COMPETITION REPORT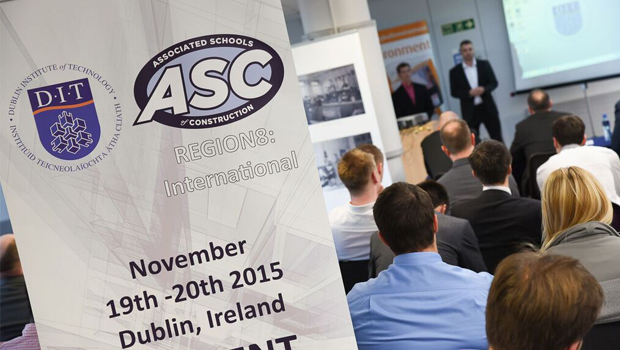 January 2016: Our Competition pages (click here) now include a full report on our fantastic 2015 International Student Competition, superbly hosted by Dublin Institute of Technology and run in association with Walls Construction, John Sisk & Son, Mott MacDonald Ltd, and ABM Europe.
The winners – making their competition debut – were Liverpool John Moores University, holding off strong competition from the runners up, a joint team from Auburn University & Birmingham City University, and our hosts DIT in third place.
The victorious team features in a press report of their experience here.
---

WELCOME TO LIVERPOOL JOHN MOORES UNIVERSITY
November 2015: Region 8 is delighted to announce another new member, the School of the Built Environment at Liverpool John Moores University. They will be straight into action, competing in our forthcoming International Student Competition in Dublin!
---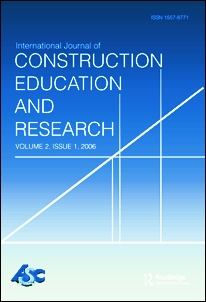 NEW BENEFITS FOR MEMBERS
September 2015: We're excited to be beginning complimentary online access to The International Journal for Construction Education & Research for all ASC member institutions as part of the benefits of ASC membership for 2016.
We will begin offering this free online access at the start of 2016; all staff and students at the ASC member institution will have electronic access to IJCER articles.
For more details of the journal, please click here.
---