REGION 8 STUDENTS WIN AGAIN!
March 2017: The successful Birmingham City University/Auburn University collaborative team, which was victorious in the Region 8 Student Competition in November 2016, has now conquered the Region 5 International Design and Build Competition in Dallas, Texas as well!
The two winning members from BCU, Matt Roberts and Jack Tyson, formed part of the expanded team in Dallas, along with coach Angela Kilby, competing against nearly 20 teams from the UK, US, and Australia. More details about their achievement can be found here.
And the Region 8 success didn't stop there; with Lloyd Scott from DIT joint coaching the Oklahoma University team to runners-up too. Congratulations all!
---
2017 EXCELLENCE AWARDS NOW CLOSED
March 2017: Are you an excellent teacher, outstanding educator, or outstanding researcher, with a track record of success and commitment to ASC and the construction profession? Then you could be a winner in the Annual Region 8 Awards for Excellence!
Click here for more details. The 2017 winners will be announced shortly, but if you would like to plan ahead – nominations for 2018 will close at the end of February next year!
---

INTERNATIONAL STUDENT COMPETITION 2016
January 2017: Huge congratulations to the winners of the 2016 Region 8 International Student Competition, the annual highlight of the ASC calendar! The 4th Regional Champions were a joint team between Birmingham City University, UK, and Auburn University, USA. A full report will appear shortly.
The competition project was hosted by the University of Reading, UK, on November 17th-18th, based on one of the University's recent infrastructure investments and focusing primarily on scheduling and cost control. The real-life project was from Multiplex, formerly Brookfield Multiplex, the global contracting and development company that has delivered landmark property and infrastructure assets for more than 50 years.
The venue was the Meadow Suite of the University Park House. The School of the Built Environment at Reading is internationally renowned for its research and education relating to the design, construction and operation of the buildings and places within which we live, work and play.
---

WELCOME TO CZECH TECHNICAL UNIVERSITY!
April 2016: Region 8 is delighted to welcome one of the biggest and oldest technical universities in Europe as a member; founded by a decree issued by Emperor Josef I on January 18th, 1707, CTU is now home to some 24,000 students.
For more information on joining ASC, please see our page detailing member benefits.
---

VENUE ANNOUNCED FOR 2016 STUDENT COMPETITION
March 2016: We are very pleased to confirm that the School of Construction Management and Engineering at the University of Reading will host the 2016 Region 8 international competition on November 17th-18th.
The university is home to some 17,000 students and this year celebrates its 90th anniversary; and is an internationally recognised centre of excellence for teaching and research in the built environment.
Further details of the project and industrial sponsors will be announced here very soon!
---
NOMINATIONS SOUGHT FOR 2016 TEACHING EXCELLENCE AWARD
February 2016: The nomination process is now open for the Region 8 Award for Teaching Excellence, to be presented at the 52nd ASC International Conference in Utah. Full details, and the nomination form, are available here, and you can read an interview with the 2015 winner, Professor Lloyd Scott, here.
Please note that the nomination deadline is February 26th, and the winner will be selected at the forthcoming Regional Meeting on March 2nd in Birmingham, UK (members will be contacted shortly with further details).
Full details of the awards will be posted following the ASC International Conference in April.
---
2015 STUDENT COMPETITION REPORT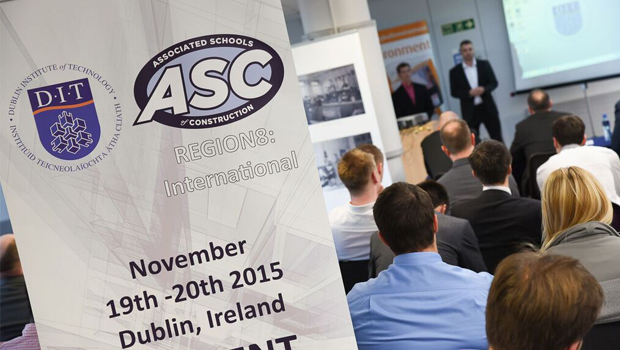 January 2016: Our Competition pages (click here) now include a full report on our fantastic 2015 International Student Competition, superbly hosted by Dublin Institute of Technology and run in association with Walls Construction, John Sisk & Son, Mott MacDonald Ltd, and ABM Europe.
The winners – making their competition debut – were Liverpool John Moores University, holding off strong competition from the runners up, a joint team from Auburn University & Birmingham City University, and our hosts DIT in third place.
The victorious team features in a press report of their experience here.
---

WELCOME TO LIVERPOOL JOHN MOORES UNIVERSITY
November 2015: Region 8 is delighted to announce another new member, the School of the Built Environment at Liverpool John Moores University. They will be straight into action, competing in our forthcoming International Student Competition in Dublin!
---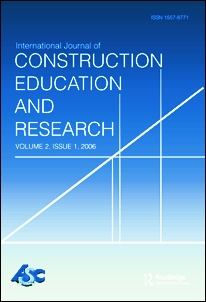 NEW BENEFITS FOR MEMBERS
September 2015: We're excited to be beginning complimentary online access to The International Journal for Construction Education & Research for all ASC member institutions as part of the benefits of ASC membership for 2016.
We will begin offering this free online access at the start of 2016; all staff and students at the ASC member institution will have electronic access to IJCER articles.
For more details of the journal, please click here.
---