WELCOME TO PRAGUE!
We are truly excited to welcome all teams to the stunning historic city of Prague, in our first ever student competition to be held in continental Europe!
Launch details
Date: 8th – 9th November 2018
Venue: Czech Technical University in Prague
Our lead competition sponsor is SWIETELSKY, founded in Austria in 1936 and now with branches across much of Europe (including the UK) and several thousand employees. The competition building is a High School in Prague for which SWIETELSKY were the lead contractors, an attractive architectural solution that takes environmental issues into consideration.
We are also delighted to have once again secured valuable commercial sponsorship from PlanGrid to support our event and the awarding of student prizes!
For the first time, this also means that we are able to offer up to 3 bursaries of £200 to support first-time attending schools and encourage first steps into the wonderful world of ASC Student Competition. If you would like to know more about that, please contact the Regional Director at nick.morton@bcu.ac.uk.
Regulations and entry conditions
Please see our dedicated rules page here.
Please note that, in a change to our regulations for this year, we are now permitting students from a single institution to form part of up to THREE teams rather than two as in previous years (i.e. typically one 'home' team and up to two collaborative ones). This rule change was agreed at our summer Regional Meeting, and recognises the benefit of accommodating the growing number of international partnerships our members have established.
Judging Panel
The judging panel consists of a highly impressive range of senior figures from local, regional, and international brands:
Oskar Krejci – Manging Director Swietelsky Co. , Region Prague
Petr Solc – Manging Director Swietelsky Co. , Region West Bohemia
Zdenek Rames – CTU alumnus and project manager who had realized a number of important projects in different countries.
Ales Gothard – Our alumnus; Regional Manager – METROSTAV Northern Europe. Metrostav is the largest construction company in the Czech Repulic. He has realized several tunnel projects in Iceland.
Glyn Evans, MRICS – Head of Design & Build CEE, Cushman & Wakefield Prague
John Newton, MRICS, Managing Director of TETRIS Design & Build
Nick Reader, MRICS from ARCADS CZ Comp
Registration
Please complete and return the form below by Friday 28th September 2018.
ASC-Region-8-Competition-registration-2018
Provisional Itinerary
As is now established tradition, the event will commence with an optional social for all teams on Wednesday November 7th, with the competition proper requiring all teams in lock-down on Thursday, and presenting their solutions on Friday. We will conclude with a final night celebration on that evening.
Recommended Accommodation
Prague is a busying highly popular tourist destination, with a great deal of accommodation to suit all budgets available in the city centre, and several hotels close to the university campus. The campus is easily accessible via public transport.
Our personal favoured option of the many available is Jury's Inn Prague, located close to the city centre and a short walking distance from the old town and tourist attractions. It is also located directly across from the Chez underground which is ideal for travel.
Jurys Inn Prague Hotel, Sokolovska 11, 186 00 Praha, Prague
Tel:+420 226 222 600, Fax:+420 226 222 610
Current cost double room (B&B) through hotels.com €313 – total cost for 3 nights
Current cost triple room (B&B) through hotels.com €485 – total cost for 3 nights.
A further recommended option is the ENERGIE Hotel – http://www.hotelenergie.cz/content.php?lang=2&id=6.
Further Information
Note that the currency is NOT the Euro but the Czech Koruna (conversion rate approx 1 to 5 i.e. 1 euro is 25 CZK)
Public transportation to, from, and within the Czech Republic is regarded as safe, but care is advised with taxi/cabs which can over charge and bring you on "longer" distance routes to your location.
Our recommendation for transport (this company is trusted and has been used extensively by Region 8 members in the past) is as follows:
PragueAirport-Transfer.com The Safe and Professional Way www.pragueairport-transfer.come: prague@pragueairport-transfer.comt: 00420 725 049 100
You can email in advance, and arrange transport to and from the airport for small to larger numbers, and it provides a cheap and safe choice in comparison to some local taxi options.
The central area of Prague is not associated with high crime. However, statistics suggests that pick-pockets pose the greatest risk. Take the usual precautions that you would in a major city; for example, when using ATMs to take out cash. We recommend that students travel in pairs as a minimum at all times, and adopt a companion system to ensure group safety.
As ever, one of the great joys of the International Student Competition is to introduce you to a new city. Please follow the links below for more information on the history and heritage of Prague, truly one of the great capitals of Europe and bursting with possibilities for a fulfilling stay!
https://www.prague.eu/en – the official tourist guide to Prague.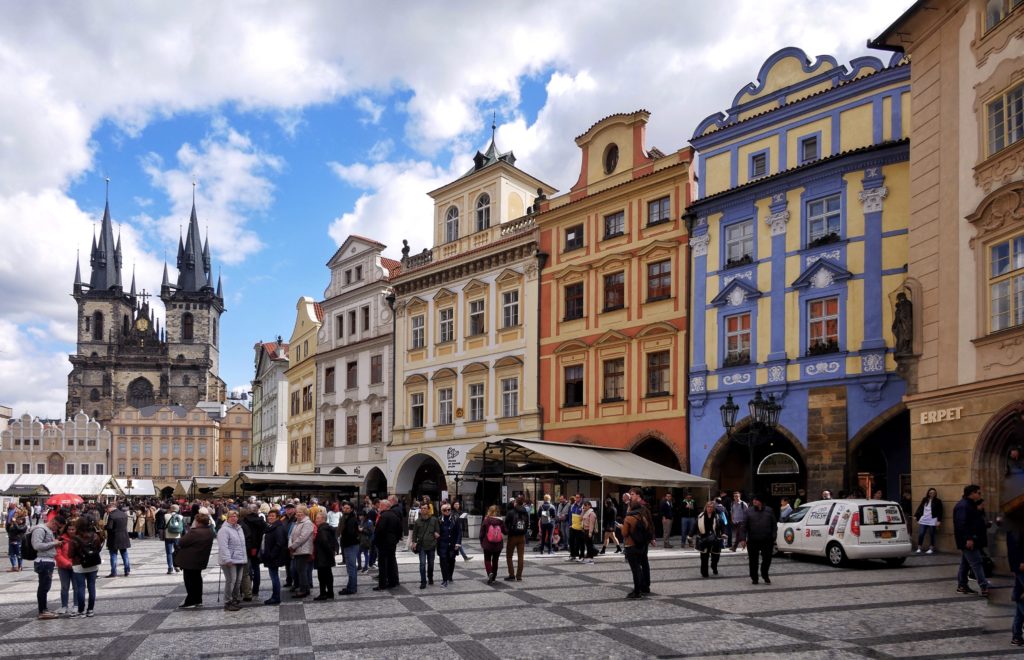 Old Town Square, Prague
---