Region 8 is principally represented at the main ASC Annual Conference (at which the Region's formal business meeting takes place), and at the UK's Innovation in Built Environment Education Conference (iBEE).
---

The 53rd ASC International Conference is co-hosted by the University of Washington and Washington State University and will be held in downtown Seattle, Washington at the Motif Hotel, in April 2017.
The ASC Annual International Conference provides opportunities for members to discuss up-to-date curricula and best teaching practices, current management models in the construction industry, to present research findings, to learn from each other, and to hear from industry and related professionals.
For more details, please click below!
http://depts.washington.edu/uwconf/wordpress/asc2017/
---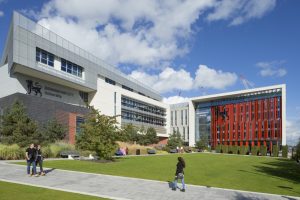 The Innovation in Built Environment Education Conference 2017, themed around "Learning Matters", will be held at Birmingham City University's City Centre Campus, 7-8 September 2017.
The emphasis this year will be on building up a community of Built Environment Education Practitioners. While we will include a range of keynote speakers and formal presentations, in response to feedback, we will allow more time for workshops and constructive conversations to facilitate exchange of views and deepening understanding of the issues that face those delivering education.
For more details, see here:
http://chobe.org.uk/ibee-2017/
---
Previous ASC International Conferences:

ASC 2016 52nd International Conference
We invite you to the 52nd Annual International Conference of the Associated Schools of Construction (ASC), April 13-16, 2016.
Brigham Young University is pleased to host the 2016 ASC Conference in Provo, Utah, at the base of the majestic Wasatch Mountains in beautiful Utah County.
Initial details are now live at http://asc2016.ce.byu.edu/ 
---

ASC 2015 51st International Conference
Full details at: http://asc2015.tamu.edu/ 
Future Tech: Changing Construction Practices
The Future is Today… New technologies are getting introduced almost every day, and many industry leaders are advocating that we need to apply these emerging technologies to our construction management processes more aggressively, in order to increase the productivity in construction.
What technologies can we use now to improve productivity in the construction industry? As construction educators, how do we teach our students to be leaders of the industry in terms of applying these emerging technologies for productivity improvement?
The Department of Construction Science at Texas A&M University is proud to host the Annual ASC International Conference from April 22nd through 25th in 2015, where you will find an opportunity to discuss these issues with your colleagues from other schools. Additionally, you will have an opportunity to learn about a number of emerging technologies that our keynote speakers and technology providers will bring to the conference. Additionally, the conference will host a number of "workshop sessions" on various topics of interest, on Wednesday, prior to the main event on Thursday.
---

ASC 2014 50th International Conference:
Full details at http://www.cpe.vt.edu/asc2014/
---
Previous iBEE Conferences

Innovation in Built Environment Education (iBEE) Conference
Full details at: http://ibee-conference.com/
iBEE is supported by ASC Region 8 and brings together the built environment academic and professional community to share and disseminate developments in pedagogic styles and strategies.
This interactive conference seeks to engage with academics and professions across the built environment disciplines, allowing participants to:
Experience excellent and innovatory inter-disciplinary practice
Participate in hands-on workshops led by inspirational teachers
Actively engage with and share new ideas through a series of 'show and tell' sessions
Explore synergies in the pedagogic styles and strategies of different subjects
Draw on the expertise of leaders and innovators working across discipline boundaries
iBEE 2015 has the theme Inspiring the Learner Journey, and takes place September 3rd – 4th, at the University of Bath, UK.